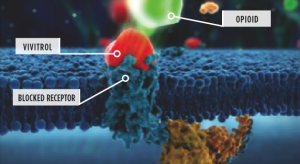 Vivitrol is a 28-day injection made of naltrexone, a complete opiate blocker. Naltrexone binds to the opioid receptors in the brain, thus preventing a relapse because opiates can no longer attach. If someone who is on Vivitrol attempts to use opiates, they will not feel any effect, or "get high." Vivitrol takes away cravings for opiates because those very receptors are already covered. Vivitrol can only be administered after opiate detoxification and must be continued every 28 days. There is no magic number regarding the recommended length of treatment while on Vivitrol, but one can expect at least one year.
In order to get Vivitrol, a patient must be free of all opiates, including Suboxone. The length of time varies by substance, with fentanyl/heroin being the shortest length of time (about 4-5 days), pills (7 days) and Suboxone up to 10 days. Because we understand that stopping opiates this long isn't easy, our doctors prescribe an outpatient medication comfort/detox medication regime to assist with the major, most upsetting symptoms of withdrawal to take over a period of time to make it a little easier. If a patient has already detoxed, whether it be in an inpatient facility or even jail, we can administer Vivitrol immediately, after the "naltrexone challenge" in office (we give you a small piece of a naltrexone pill to see if you have any adverse reactions 30 minutes prior to injection.) Vivitrol injections are covered 100% on ALL Medicaid plans.
Another way we assist patients in an outpatient detox is with "the Bridge Device"- a neurostimulator placed in one's ear for 5 days that eases the symptoms of opioid withdrawal. (Please read more in detail about the Bridge on its own page here)
In most cases, patients are able to start the treatment process on the very day they're asking for help.. All necessary clinical assessments and office requirements for Vivitrol injections are conducted at the first appointment in order to start the detox process immediately. The patient may be able to see their counselor this day whether it be in person or via tele-counseling; if not, they will leave with a scheduled first appointment. Dependent upon each individual patient case will determine when you're asked to return for a follow-up. Each patient has their own individualized treatment plan, developed by themselves and the doctor consisting of chemical depending counseling (individual or groups), mental health services (if needed), support meeting guidance and other behavioral therapy approaches to be completed on an ongoing basis on their own time. We monitor the patient's progress on a 4-week schedule when the injection is given. If a patient has setbacks we move them to a higher level of care with more frequent office visits and counseling, urine screening and modification of the treatment plan until they have once again stabilized. We believe each patient is a unique individual with a specific set of needs that must be met in order to have the best chance for lifelong recovery.